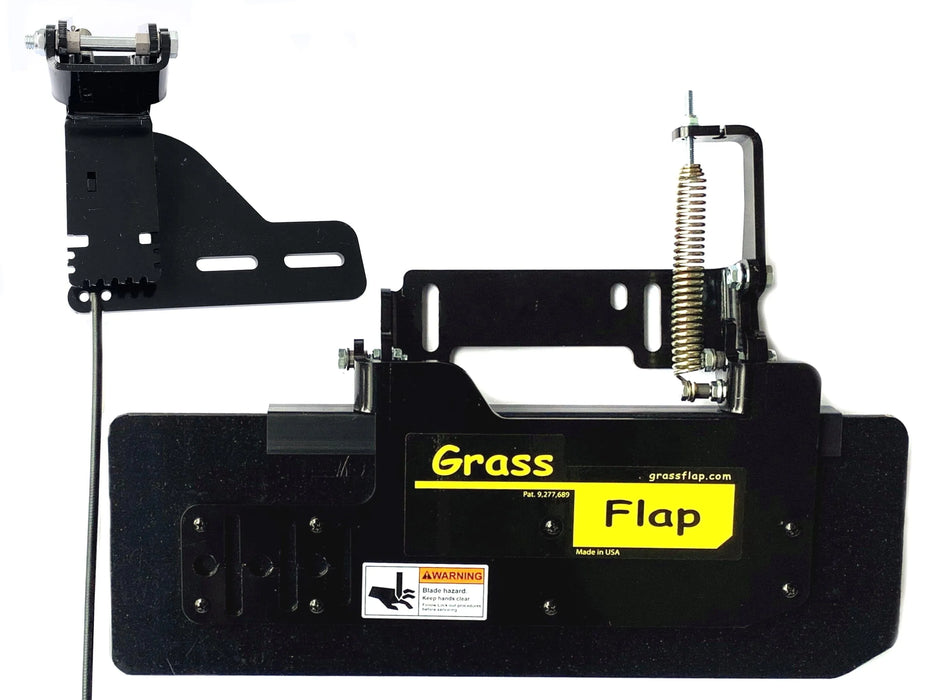 41P50-5C-A32 Low Profile Heavy-Duty GrassFlap with SEC Pedal Includes Pedal Mounting Plate 135
Original price
$383.00
-
Original price
$383.00
Low Profile Heavy-Duty GrassFlap with SEC Pedal Includes Pedal Mounting Plate 135.
The GrassFlap is the ideal OCDC, operator controlled discharge chute. The foot-operation allows the user to close the discharge chute at any time, any place without taking their hands off the mower's controls. The chute blocker plate opens a full 180 degrees and completely clears the edge of the mower to allow the mower to fit in those tight spaces. The GrassFlap fits most zero-turn mowers.
This is a universal GrassFlap - read installation section for more information.
Features
Hands-Free

 

operation
Opens 180 degrees to

 

completely clears edge of deck
No handles or levers

 

to get hung on limbs and shrubs
Most

 

Drop-on baggers

 

will fit with GrassFlap installed
What's Included
The kit includes everything needed to install and operate the GrassFlap.
This includes:
2-piece steel and heavy-duty plastic flap assembly to mount to discharge opening
50" cable (10-99-08)
Pedal mount plate 135 (11-82-32)
Mounting hardware for installation
The SEC Pedal has the cable exit the pedal parallel to mounting surface and has an L shaped base for mounting with the SE pedal pad.
Installation
Assembly is required, including drilling holes in mower deck and operator foot deck to install. Modification to blocker plate size and shape may be required for best fit on some mowers. 
Accessories
Accessories are optional hardware that can make installation easier or eliminate the need to drill your deck. Available for limited number of brands. The link below will take you to the page showing the accessories.   Accessories can also be found under Shop>Accessories.