If GrassFlap Lookup is not working
You may need to refresh the page. If it still does not work, try enabling cookies for this webpage.
Don't see your make and model?
Please email David@grassflap.com with the following information:
Mower brand
Mower type
Model Year
Deck size
Photos of your foot deck and discharge opening
Your name and contact information
We'll reach out to answer your questions and help you select a GrassFlap unit for your mower. It's as simple as that!
WHAT ARE GRASSFLAPS?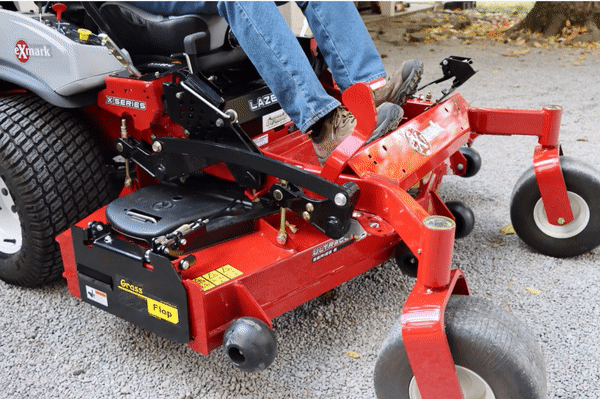 GrassFlaps are FOOT-OPERATED, Operator Controlled Discharge Chutes (OCDC) for all zero-turn lawn mowers. This attachment blocks the mower's discharge chute—ensuring clean lines and edges. It is a must-have for lawn care professionals who demand the best results. Local mowing crews have field tested our designs to ensure exceptional function and results. We know durability, convenience, and fair pricing are important to our customers—and that's our priority, too.
GrassFlap Lookup
WORKS WITH ALL POPULAR BRANDS
How We Started
David Luking, GrassFlap Founder
For me, cutting grass is fun, and having good equipment makes it even better. Over the years, I have cut grass with everything from a Farmall tractor with a belly mount mower to the latest zero turn riders. In the old days, I would blow grass "in" for the first few rounds, and then turn it around and start blowing the grass "out" so it didn't pile up.
Then we got a professional walk-behind mower, and everything changed. I didn't have to cut in squares any more; I could turn on a dime; I could cut strips and patterns. Nothing was the same—nothing except that I still had to manage where I blew the grass clippings.
We bought a chute blocker and took it home to install. We dumped all the pieces out and started trying to fit it onto our mower. Nothing fit. It all had to be modified; It was not good. We returned it, and I made one myself! It was hand operated from the drive position, and it worked great.
Our next mower was a zero-turn that I modified so the chute blocker would fit. Again, this flap also was hand operated. With practice, we learned to let go of the hand controls in order to flip the chute open or closed. It worked, but it was hard to do and still stay in line while you mowed. The next season, I figured out how to operate the flap with a foot pedal. It was crude—a barn door hinge, a bent rod, a bungee cord—and there it was. 
With the flap and foot pedal, it was now possible to close the discharge chute any time, any place. I couldn't believe how many times I would use it in a single yard: passing a tree, passing a flowerbed, passing someone trimming. I even found myself closing it just to turn at the end of a pass, to keep from blowing grass into the next yard. By the time the mowing season was over, the pedal had evolved. It now was made of formed steel, the flap had welded pivots, and the unit would bolt on to any zero-turn mower. The GrassFlap was now a reality!